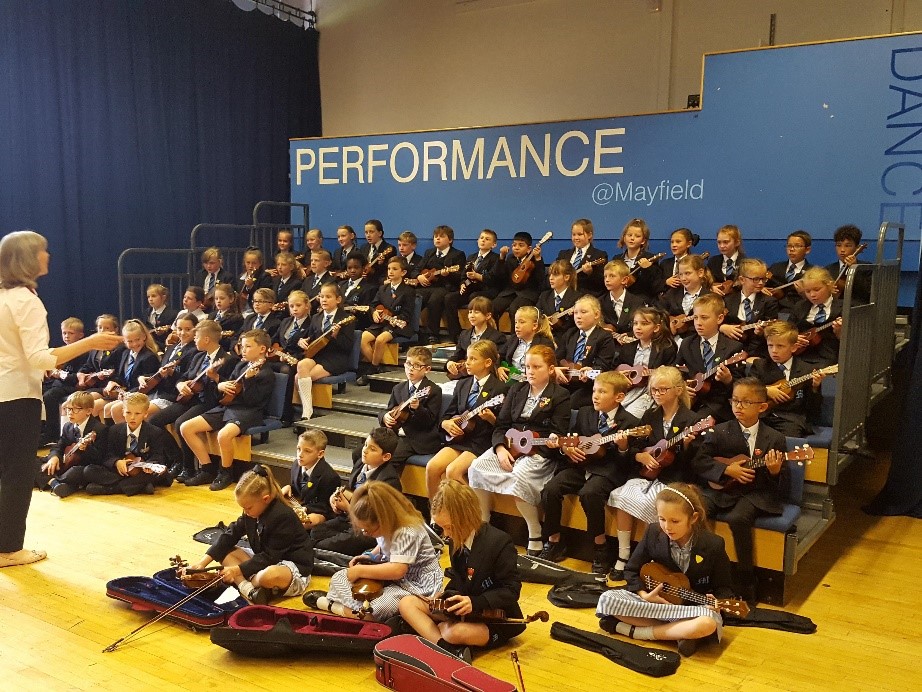 Mr David Jeapes - Headteacher
Please do remember that Friday 21st June is an INSET day and the school is closed to all pupils for staff training - except for Year 11 who have their leavers' assembly. All pupils should return at the normal times on Monday 24th June to start the new academic year for pupils in our Senior Section or finish off the year for those in our Primary Section.
Regular readers will be aware that Mayfield School is a keen supporter of the 'Portsmouth Festivities'. We are delighted to be hosting both "Dance in a Day" and Pete Johnson (author of "How to Train Your Parents"). For more information about the festivities please visit their website at:
www.portsmouthfestivities.co.uk
I would like to remind all members of our community that on Friday 5th July, we will be running the 'Friends of Mayfield' Summer Fete. I would be most grateful if you would help us promote this event by sharing the flyer which can be found here via your social media networks. Equally, if you would like to help out, please contact the Chair of FOM, Mrs Judith Firth on FirthJ@mayfield.portsmouth.sch.uk
To help our families plan their time, we have produced an extract of the school calendar containing all of the keys dates for Summer 2. This can be downloaded here.
**** School closed for staff training: Friday 21st June 2019 ****
Miss Louise Hillier - Head of Senior
Year 11 have almost finished their last exam- in fact, the bulk of them now have. There are just a few more exams (Further Mathematics and Polish) and they are all done! Well done Year 11! We are looking forward to saying a proper goodbye to them at their leavers' assembly on Friday 21st June. Pupils should arrive at 8:45 am on that day.

We have our House Sports event on Wednesday 19th June and the weather is looking promising after this week's very damp conditions. In the event we do have to cancel it we will let parents know through a message on our website if it is the day before and additionally by a text if we have to make the decision on the morning. It was a fabulous occasion last year so it's definitely something for all the pupils to look forward to. Senior pupils finish at 1:35 pm on this day.

Thursday 20th June is our Rewards Day. If your child is involved in an activity, they will have the information. School runs as normal for all other pupils with Years 7 and 8 due in at the usual time of 8:10 am and Years 9 and 10 due in at their usual time of 8:40 am.

The new academic year begins on Monday 24th June. If your child is in the current Year 10 then they must purchase a Year 11 tie by this date. These are available to buy at Skoolkit or direct from school with payment through Tucasi.

Finally, pupils in Year 7 should now be working on their Summer 2 'Prep' projects. Copies of the projects can be found here. Please do not hesitate to contact your child's tutor if you would like them to provide additional support for your child as they complete these projects. A full list of tutors can be found here.
Mr Matt Stedman - Head of Primary
We have another very busy week in the Primary section. The Year 4 children had an amazing time on their trip to see Matilda at the Mayflower Theatre in Southampton. Year 4 also had their own chance to shine on Thursday afternoon when they performed their Ukulele concert to parents. I was very impressed at how quickly the children have progressed with their music skills and how well they kept in time together. Thank you to all of the parents who came along to support this event.
Our Junior Sports Day was scheduled to take part this afternoon – weather permitting. The children have been practising hard for this event and the spirit of healthy competition has been building all week. The final results will follow in next week's messenger. We also have our Year 3 and 4 boys' football teams taking part in the Portsmouth Schools tournament this afternoon. Good luck boys!
We have many exciting events planned for next week. On Monday, we have the Year 3 trip to Fishbourne Roman Palace and the Mississippi class trip to Southsea and the D-Day Museum, with the Danube class going on the same trip on Wednesday.
On Tuesday, we have a non-uniform day in support of the Friends of Mayfield. Pupils should come to school sensibly dressed in their own clothes. Instead of paying for the non-uniform day, pupils are asked to each donate to one of the following items for the summer fete on 5th July;
A raffle prize (any unwanted gifts etc)

An item for the tombola (anything from a tin of beans to shampoo!)

An item for the bottle toss (anything in a bottle from soft drink to shampoo or alcohol)

Prizes for our games (small party bag or pocket money style toys, little bags of sweets, colouring books etc)
Parents will receive a letter next week to invite them to our End of Year Presentation Assemblies on Tuesday 25th June. To enable as many parents as possible to attend, we are going to do the Presentation Assembly in two halves:
9.15am start for Victory and Discovery Houses with an approximate 10.15am finish time

10.45am start for Intrepid and Endeavour Houses with an approximate 11.45am finish time
Tickets for these assemblies are available through the Online Booking System from 9 am on Monday morning.
I am also pleased to inform parents that we will be running a Summer School again this year from Monday 19th to Friday 23rd August. The purpose of the Summer School is to keep children in touch with the school and learning over the long summer holidays. More details about the arrangements for the Summer School will follow in the next fortnight.
Finally, pupils in Years R, 1, 2 and 3 should now be working on their Summer 'Prep' projects. Please do not hesitate to contact your child's teacher if you would like them to provide additional support for your child as they complete these projects. A full list of class teachers can be found email addresses can be found here.
Letters sent home this week:
Non-uniform Day Letter

Year 3 Roman Day letter

Year 2 and 4 Meet the Author Day letter

Year 3 Parents Induction Meeting
Mrs I Edwards - Pre-School & Nursery
would like to remind you that it is Sports Day on Friday 21st June weather permitting from 10 am until 11.30. Please bring your children to school wearing their PE kit. Refreshments will be available on the day and all family members and siblings can attend. I would like to thank those Mums who came back into school on Monday evening to make Fathers Day cards with their children. It was a lovely evening, we had lots of fun and laughter making their wonderful cards together.
Our Topic will continue with the theme Dinosaurs. The children will be encouraged to look at the characteristics of dinosaurs then sort into groups Carnivore or Herbivore. We have set up Role Play as a Dinosaur Museum, the children are taking part in looking at fossils and digging for dinosaur bones.
Learning intentions linked to the class subject:
Estimate, measure and classify dinosaurs;
We are beginning to use the language of Addition and Equals signs in our maths work.
Letter sounds for the week 'O' and 'P' we are looking forward to seeing your collages in class.
The words for the word wall are 'But' and 'Me'.
Just a gentle reminder can you please label all your child's uniform and their coats please to prevent these items going home with the wrong child.
Please follow us on our
Facebook
and
Twitter
pages.
During the week we have regular
Updates/Articles/Pictures.