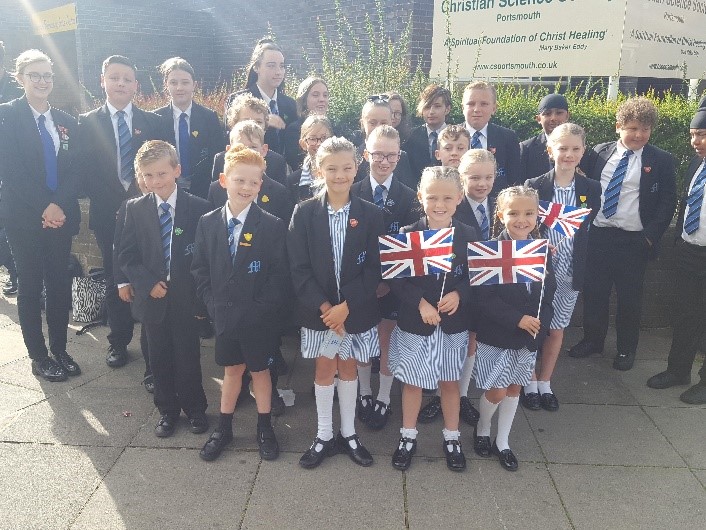 Mr David Jeapes - Headteacher
Please do remember that Friday 21st June is an INSET day and the school is closed to all pupils for staff training - except for Year 11 who have their leavers' assembly. All pupils should return at the normal times on Monday 24th June to start the new academic year for pupils in our Senior Section or finish off the year for those in our Primary Section.
Regular readers will be aware that Mayfield School is a keen supporter of the 'Portsmouth Festivities'. We are delighted to be hosting both "Dance in a Day" and Pete Johnson (author of "How to Train Your Parents"). For more information about the festivities please visit their website at:
www.portsmouthfestivities.co.uk
I would like to remind all members of our community that on Friday 5th July, we will be running the 'Friends of Mayfield' Summer Fete. I would be most grateful if you would help us promote this event by sharing the flyer which can be found here via your social media networks. Equally, if you would like to help out, please contact the Chair of FOM, Mrs Judith Firth on FirthJ@mayfield.portsmouth.sch.uk
To help our families plan their time, we have produced an extract of the school calendar containing all of the keys dates for Summer 2. This can be downloaded here.
**** School closed for staff training: Friday 21st June 2019 ****
Miss Louise Hillier - Head of Senior
It has been a busy week straight back from half-term and Year 11 have had a very full week of exams. On Monday they begin their personalised timetables which will mean there may be occasions when they can come in late or go home early. Each child has their own individual timetable and pupils will sign in and out at reception if they are coming in or leaving outside of normal school start and finish times.
Wednesday 19th June is our House Sports Event. This will run in the same way as last year with most pupils being based on site for the day. ALL pupils should come to school in PE kit. There is no resilience on this day for Years 7 and 8, so all pupils must arrive for 8:40 am. On this day, all Senior pupils finish at 1:35 pm. We are very much looking forward to this.
Our rewards day is on Thursday 20th June. If your child is eligible to take part in some of the great activities on offer and they haven't yet signed up then they need to do so urgently. Mr Clark-Lyons is co-ordinating the day so if you have any questions about this then please contact him on Clark-Lyons-Richard@mayfield.portsmouth.sch.uk.
Monday 24th June is the start of our new academic year. The current Year 10 move up to be Year 11 so must have a Year 11 tie on this day. Ties are available from the school or from Skoolkit. We are delighted that the Lord Mayor is joining us for our Moving on Assembly on that day when we will announce the new Head Prefects. There is a very strong field of contenders for the positions this year so I wish them all the very best in the application process and look forward to working closely with the successful students.
Finally, pupils in Year 7 should now be working on their Summer 2 'Prep' projects. Copies of the projects can be found here. Please do not hesitate to contact your child's tutor if you would like them to provide additional support for your child as they complete these projects. A full list of tutors can be found here.
Mr Matt Stedman - Head of Primary
We have been focusing on the D-Day anniversary this week. The children have been fascinated by the events of 75 years ago and there have been some excellent discussions in class about the significance of D-Day. A group of Year 3 and 4 children performed a special tribute to D-Day on Thursday morning when they sang wartime songs to a group of marching 'soldiers' as part of a D-Day re-enactment. Thank you to everyone who supported us on the morning.
We have had a very exciting afternoon this afternoon with the Year R House Sorting event. The Mayfield Sorting Hat made its annual appearance and helped us to place the Year R children into their new Houses in time for the Presentation Assemblies and Sports Day. Year R children each received their new House badge and they now need to wear this on their blazers every day till the end of term.
Year 4 have been working on their Enterprise Week this week. We were joined by the award-winning Enterprise Team from the seniors at the start of the week and the children have loved the £5 challenge. Thank you to all of the parents who came along and supported this afternoon's Enterprise Sale. The School Council have also been reaching out this week, making contact with a school in South Africa via Skype. Our pupils were able to talk to children in Tfoninhlanhla School in the Mpumalanga province and find out what school is like in other parts of the world.
All parents were sent a new MAP form and a consent form for local trips and visits to complete in the posting before half-term. These are important documents that we need to ensure that the children are only released to authorised adults at the end of the day. Please can you make sure that these are returned to your child's teacher by the start of next week.
On Monday evening, we will be welcoming the parents of the new Year 3 children to Mayfield. The Year 3 Parents Induction Meeting is scheduled for 6 pm in the Dance Studio. This meeting is really aimed at new parents who are joining the school in Year 3 to introduce them to our ways of working, but parents of the current Year 2 are welcome to attend if they wish.
We are looking forward to lots of other exciting events next week. On Tuesday, we have a trip to see a performance of Matilda at the Mayflower Theatre in Southampton. On Thursday, Year 4 will be showing off their Ukulele skills with a performance to parents at 2.30pm in the Dance Studio. We also teams taking part in the Portsmouth Year 2 Football Festival, the Year 3 and 4 Football Tournament and the Year 3 and 4 Quadkids Athletics Tournament. Good luck to all of our teams!
On Friday 14th June, we are holding our first ever Junior Section Sports Day. The children will take part in a range of running and field events. Parents are invited to stay after the morning drop-off, watch the events and support their children's House; please feel free to bring your own rugs or fold-up chairs to sit on. We have moved the Sports Days to the morning to prevent the children from being outside in very hot afternoon sun. However, we will need to postpone these events if the weather is wet. Please send your child into school in their normal school uniform and they will get changed prior to coming out for Sports Day.
Finally, I have had the pleasure of seeing some amazing Prep projects this week at the Prep Reward Teas. These models of local landmarks made by David Adamescu, Sophie Hodgkinson, Connie Holden and William Middleton were absolutely fantastic!
At the start of a new half-term, the children should be working on their new Prep projects. Please see your child's class teacher if you are not sure of the project for this half-term.
Letters sent home this week:
Sports Day and Non-uniform day

Year 4 Music Performance
Mrs I Edwards - Pre-School & Nursery
Our topic in class will continue with the theme Dinosaurs. In class, we are still finding out about the different varieties of dinosaurs and their characteristics.
Learning intentions linked to the class subject:
Through group discussions find out what facts the children already know about dinosaurs;

Create fossils;

Help to develop number formation skills 0-10;

Dinosaur dig- excavate the bones and sort by size and shape;

Create a drawing of an undiscovered dinosaur give it a name and describe what it eats and where it lives supporting writing skills.
Letter sounds for the week are 'M'and 'N'.
Words for the word wall are 'They' and 'Went'.
Finally, a gentle reminder as the weather's getting warmer could you please apply suntan lotion before you get into school and we shall apply when needed throughout the day.
Please follow us on our
Facebook
and
Twitter
pages.
During the week we have regular
Updates/Articles/Pictures.