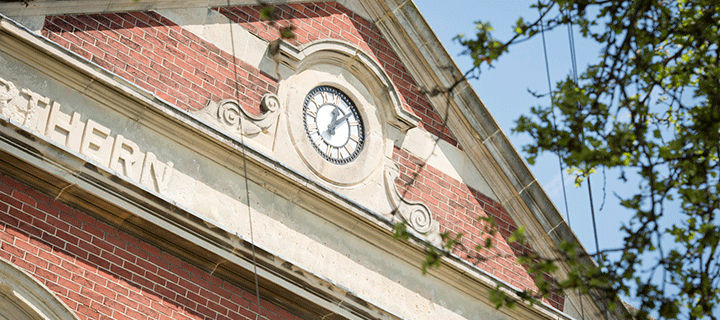 Mr David Jeapes - Headteacher
Every Year we offer employment to a group of our Year 11 leavers to work with the school as a 'Young Mentor'. If appointed they will get:
5-6 weeks of work experience within the school;
A reference at the end which you can show future employers;
£100 tax free payment;
Free Lunch daily and an end of contract outing.
To apply for this post, please write a letter (max 600 words) outlining:
Why are you interested in this role;
What skills do you have that would make you an effective Young Mentor;
How this role will help you in the future;
Which areas of the school you would like to support e.g. Drama, Maths etc.
Please ensure that this letter is delivered to Mrs Lynne Hollis, PA to the Headteacher by 4:00pm on Monday 8th May. Interviews will take place on Saturday 13th May from 9am. If appointed, pupils will be required to observe our staff dress code which can be viewed in the staff handbook which is available here. If you have any questions about this role then please speak with Mrs. Claire Waterfield or email Waterfield@mayfield.portsmouth.sch.uk.
To help our families plan their time, we have produced an extract of the school calendar containing all of the Keys Dates for Summer 1.
*School closed to all pupils on Monday 1st May 2017*
Miss Louise Hillier - Head of Senior
Year 8 winning the Double
Now we are back from the Easter holidays Year 11 are in full swing for their GCSE examinations. The next few weeks are crucial for them so it is vitally important that they are in school, on time, every day. There are details on the website of how to revise and links to resources here.
We are required to run all public examinations in line with national rules. Please find here a link to some important information which outlines these in full. However, in summary, all pupils must:
Arrive to examination venues at the times specified with the correct equipment and in full uniform;
Make sure that they do not have a mobile phone or similar devices on them during an examination – EVEN if it is switched off. Phones should be handed in at the start of the examination, they will be returned at the end;
Not communicate or attempt to communicate with other candidates during the examination;
Follow all instructions given to them by examination invigilators.
Failure to observe rules may lead to pupils being disqualified from one or more examinations. I would like to take this opportunity to wish all of our Year 11 the very best for these important tests. A full copy of the examination timetable can be found here.
Alongside the GCSEs there are "Mayfields" for all other year groups over the coming weeks. These serve to both identify where the pupils are in each subject so we can support them to improve, as well as getting the pupils used to the routines of exams so nothing comes as a surprise in Year 11. The timetable for these exams is here. Please note we run all internal exams under the same conditions as the external public exams.
This week has seen four cup finals for football and our Rock Challenge team take part in the Southern Open Final on Friday night. Congratulations go to all who took part in any of these events. Both Years 8 and 9 won their cup finals however in all four matches the boys played with passion and demonstrated great sportsmanship. They all made Mayfield proud.
A number of our Year 9 pupils went to the Big Bang Fair at the Ageas Bowl in Southampton on Thursday. The staff accompanying them had a number of people comment on how well behaved, polite and scientifically knowledgeable our pupils were. All that attended this event enjoyed it.
As a school we have appointed four staff to work as Assistant Heads of House.
| | | | | |
| --- | --- | --- | --- | --- |
| | Discovery | Endeavour | Intrepid | Victory |
| Head of House | Ms Jo Webb | Mr J Campbell | Mrs J Campbell | Mrs S Johnson |
| Assistant Head of House | Mrs C Reid | Ms S Hutchinson | Mr S Reid | Miss J Jones |
Please note that pupils are not allowed to use "fidget devices" in lessons, unless they have permission to do so from their Head of House. Please discourage your child from bringing them into school as any that are seen in lesson will be confiscated.
And finally a reminder that Years 7 and 8 should be working on their Summer 1 Prep projects. The projects can be found here. If your child is unsure of any element of the work they should talk to the subject teacher concerned in the first instance.
Mr Matt Stedman - Head of Primary
Infants Performing "Red Hot Safari"
I'm pleased to report that the children have settled back into learning really well after the Easter holidays and that we have had a great first week. As it is now the summer term, the children are allowed to wear the summer uniform click here for further details. Hopefully some warmer weather is just around the corner and the children will shortly need their sunhats. Can I please remind parents that only the Mayfield sunhats are allowed in school and these can be purchased from our uniform supplier Penelope Anne.
It is also important that the children are wearing sun cream as we head into the summer months. Our advice to parents is that it is best to apply the 'once-a-day' sun cream in the morning before your child leaves for school. Children with very fair skin may need additional protection during the day. If so, can parents please provide a named bottle of sun cream for the child to apply themselves during the day and pass this to the class teacher. We normally find that the sprays are the easiest products for younger children to apply.
We are coming up to important end of year tests for both Year 1 and Year 2. The Year 1 Phonics Screening Test is due to take place in the week beginning 12th June. Mrs Guy and Mrs Sheppard are going to be holding information sessions for parents on Wednesday 3rd May at 3.30pm repeated at 4.30pm to explain more about how this test works and how you can help your child at home. Each talk should take no longer than 30 minutes and I hope that you will be able to attend.
The end of Key Stage 1 SATS for Year 2 are due to take place in the last two weeks before half-term. We are trying to keep these days as normal as possible for the children as we do not want them to feel stressed or anxious about taking these tests. The tests are quite challenging and you may notice that your child feels a bit more tired after school in these weeks. You can help to support your children by keeping to normal routines at home and making sure that they get lots of rest and sleep. Please do not feel the need to do revision or extra work at home – the normal weekly homeworks will be sufficient.
Finally, we are all looking forward to the trips that are coming up over the next couple of weeks. Year R are off to Longdown Activity on Thursday 4th May and Year 1 are going to the Harold Hillier Garden Centre on Friday 12th May. Please see your child's teacher if you need any further details about either of these trips.
Mrs I Edwards - Pre-School & Nursery
Dads and kids working together to create a Mother's Day Card!
Welcome back after the Easter half term hope you had an enjoyable break. As the weather will be starting to get warmer over the next couple of month's permission slips to apply sun cream have been sent home. Please could you return these as soon as possible.
The topic in class for the next 4 weeks will be Mini Beasts. The children will learn to use magnifying glasses to observe mini beasts, and pick out main features such as pattern, colour ,size , and shape.
Learning intentions linked to subject:
Bug hunt- what bugs live in our school environment;
What do we know about these bugs;
Identify some features;
Learn new words linked to topic;
Use media and materials to create bugs for class display.
Letter sounds for the week 'C' and 'D'. Please keep creating collages for display as we use these at circle time to promote phonic sounds.
I have some important dates for you to remember:
Sports day 19th June weather permitting school leavers only;
Sleep over 30th June school leavers only;
Graduation 20th July school leavers.
Just to remind parents we will be open again for Summer camp please ask in the office for details.
It has come to our attention that some Year 11 Parents received an incomplete copy of the Year 11 Exam Timeline. An up to date version of this can be found on the exams page of the school website.
---
Year 8 secure League and Cup double
Mayfield stormed to a 11-0 victory over Kings Richard school to secure the league and cup double which can only be described as a perfect season scoring 31 goals and not conceding a single goal throughout the year.
It took Mayfield 15 minutes to break down King Richards and with some neat footwork Evan Harris put Mayfield ahead with a fantastic strike. This then put confidence in the team to go in at the break 5-0.
The team talk was about keeping our structure and not becoming to selfish in possession to maintain the high standards that was set in the first half and Mayfield did just that by putting King Richards to the sword and winning the game 11-0.
Goals were scored by Evan Harris (4), Charlie Lightly (4), Charlie Turnbull, Zac Brownlie and Lawrence Cooper.
Man of the match was hard to pick but the stand out performer with some fantastic runs, quick feet and 4 goals to his name was Evan Harris who King Richards could not handle on the night.
Captain Lawrence Cooper added "It's been a great performance from the squad throughout the whole season and a fantastic final game to close the season. This will be hard to repeat next year but we are looking forward to the challenge"
---
Friends of Mayfield Meeting Information
Friends of Mayfield are a group of volunteers made up of Parents, Grandparents, Teachers and People from the Local Community who wish to support the School by raising funds and running exciting events for our children to take part in.
We are recruiting new members to help us plan and run these events, we have added an earlier meeting to enable Parents of younger children to attend. These additional meetings will take place at 3-3.30pm in café Tranquilo, on the first Thursday of the month during term time. If you are able to attend please meet at the main Infant gate at 3pm. Our usual committee meetings will still take place on the first Thursday of the month 6-7pm in room 104, please come in the main school entrance and make your way up the stairs.
We hope to see you at the next meeting on Thursday 4th May where we will be discussing the Summer Fayre and end of Term events for the Infants.
Please contact Jude Firth for more information; firthj@mayfield.portsmouth.sch.uk
---
Dani Turner Year 9 is the artist of the week this week. Dani has created a fantastic study related to our street art project. The mouth is missing as a symbol to represent homelessness and their invisibility in the community. Fantastic shape, proportion and tone, well done.