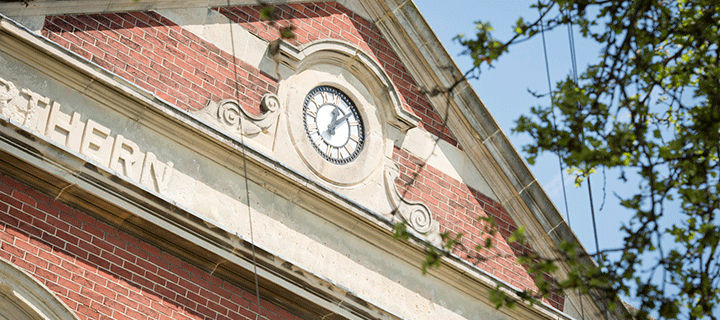 Mr David Jeapes - Headteacher
I would like to highlight the very full Easter revision programme that we are offering to pupils in Year 11. Staff members have committed a significant amount of their time to run dozens of revision classes. I am very grateful to all staff that have given up their holiday time in this way and hope to see lots of Year 11 accessing these opportunities. More about this in Miss. Hillier's section.
To help our families plan their time, we have produced an extract of the school calendar containing all of the keys dates for Spring 2.
Miss Louise Hillier - Head of Senior
This week the Senior Section has been busy. Year 11 have completed their final Mock Examinations in English and Science. They have conducted themselves very well and everything is on track for success in the Summer. There are over 50 revision sessions on offer over Easter for the pupils to sign up to and a copy of the programme can be found here. Any questions regarding the revision sessions should be directed to Mr Gibson on gibsonr@mayfield.portsmouth.sch.uk.
Year 10 had their Prefect Launch assembly on Thursday. They have collected the applications forms (spare copies are available in Pupil Services). The forms must be returned to Pupil Services by 3pm on Monday 24th April. Please do talk to your child about this process and encourage them to consider applying.
Year 7 have finished their two week long STEM "Animal Adaptations" project and are now eagerly looking forward to the Marwell Zoo trip on Tuesday. Children need to be in school at the normal time of 8:15am and they will go to the school hall to register and be allocated to their groups. Full school uniform must be worn and, depending on the weather on the day, please ensure your child has a coat or sun-cream.
I would like to take the opportunity to remind parents that any child coming to school by bike needs to have a properly fitting helmet and lights if they are travelling in the dark.
Year 7 and 8 Prep is due in by Easter holidays so please make sure that your child has finished their projects and has got them ready to hand in to the relevant staff. Links to all the projects can be found here, and any questions regarding the projects can be directed to your child's tutor in the first instance. A list of tutors can be found here.
Mr Matt Stedman - Head of Primary
Infants enjoying Extra-Curricular with Mr Flexman
The highlight of our week has been the Infant Voices Festival at the Kings Theatre on Wednesday evening. This is the first time that Mayfield has taken part in this event which involved our Year 2 Choir going up on the stage and singing along with children from 15 other schools in front of an audience of over 1,000 people. I was so proud of how the children performed their songs with such enthusiasm and how they managed to remember all of the words off by heart. I know that there were also many very proud parents watching on too. Thank you for coming along and making this an occasion that the children will never forget.
The booking system for Summer 1 Extra-Curricular is now open via the online booking system. Mrs Guy and the team have once again put together a very varied programme that will hopefully appeal to everyone's interests. We recommend that children take part in at least two extra-curricular activities per week. The booking system will stay open until Thursday 6th April, so please make sure that you book you spaces in good time as we cannot add children after the system has closed.
We have the school photographer returning on Monday 3rd April to take class photographs. Please can you make sure that the children are wearing the correct uniform and that Year 1 and 2 have their House badge on. Further details on how you can order your child's class photograph will be sent home in the book-bags later on. The visit of the photographer means that the Year 2 trip to the Spinnaker Tower has now been put back to Tuesday 4th April. All other arrangements for the trip remain the same.
We are really looking forward to the Year 1 performance of 'Red Hot Safari' on Thursday 6th April. There are performances at 9.30am and 2.30pm so please order your tickets from the class teacher as soon as possible.
As we move into the warmer weather, it is important that the children stay hydrated so please make sure that your child has their water bottle in school. Also children are permitted to wear the summer uniform after we return from the Easter holidays. More details about this summer uniform can be found here.
Mrs I Edwards - Pre-School & Nursery
Dads and kids working together to create a Mother's Day Card!
This week our topic is 'Easter Celebrations'. As a group we will encourage the children to share their experiences of Easter and how they celebrate this at home. We will explain the Easter Story by using sequencing cards to help them gain a better understanding of what Easter means.
We will also be taking part in the Easter Bonnet Parade through the school, so it's time for you to get creative! Look forward to seeing your lovely designs.
Learning intentions linked to subject:
Make Easter Cards exploring various types of media and mark making implements;
Talk through what they are doing; adapt work when necessary;
Develop an understanding of the Easter Story;
Number bonds 1-20.
Letter sound is 'Z'. Please continue to create a collage for class we enjoy sharing these at circle time.
We raised £59.00 for Red Nose Day thank you for your support. Also a special thank you to Mrs Ellis who made cakes at home with Mercedes and Dylan which we sold at the end of the day to help raise funds.
Many of our Year 11 Teachers are giving up some of their holidays to come in and work - please see this link for which sessions are available. Please note that English and Maths revision sessions (along with other subjects) will be running in the May half term.
Pupils can now sign up for Easter Revision sessions in 2 different ways:
By following this link – it will ask pupils to sign in with their school email (their name followed by @mayfield.portsmouth.sch.uk). Please note that once they have submitted their answers they cannot go back and change them (if they do want to they will need to speak to Mr Gibson)
Adding their name to the sign up sheets in Café Tranquilo (these will be available until Friday 31st March).
AM sessions run from 9.00am to 11.30 – pupils must be in for the entire session but do not have to wear school uniform. PM sessions run from 12.00 to 2.30.
On Monday 3rd April pupils will be given a summary of the sessions they have signed up for, along with their period 0/6 sessions for next half term.
If you have any questions regarding Easter revision sessions then please do not hesitate to contact me on gibsonr@mayfield.portsmouth.sch.uk.
---
On Saturday 11th and Sunday 12th of March six Mayfield Students arrived at School at 8am ready for a completely different kind of weekend.
Below some of the students share some information about the event:
Izzie S (Year 11):
"Peace Jam is a conference which takes place over a weekend. It is a chance to help promote peace and spread awareness of the challenges people around the world face. At Peace Jam a Nobel Peace Prize winner gives a speech about their lives and views on society and also answer any questions. This year Leymah Gbowee spoke to us about her experiences in Liberia.
Peace Jam is an amazing experience where you learn a lot about yourself, other people and how to help within the community and world."
Lucy B (Year 11)
"Leymah was born in 1976 in Liberia, but due to the rebel uprising which led to a civil war, she was forced to flee. Along with her mother and sisters she fled to a refugee camp. However, in 1991 she returned to her home and to help those who suffered the most during the civil war. She eventually realised the importance for women to have a voice and led the women in peacebuilding Networks and called for the end of the war. Her organisation brought thousands of Christians and Muslims women together to wear white and demand peace. She helped to achieve peace through non-violent protests and eventually won the Nobel Peace Prize in 2011."
Rebecca T (Year 10):
"During Peace Jam Mayfield students were separated and put into groups. We were all nervous to be split into 'family groups' with people we didn't know, however by the end of the weekend we truly felt like big families.
In the sessions, we played games and activities to get to know each other. Not only did we have discussions filled with laughter, but also serious conversations, such as inspiring stories about over coming struggles. The sessions were really good for your self-esteem.
Time in our family groups pushed us out of our comfort zone and allowed us to make new friends and create unforgettable memories."
All the students had a fantastic time and are hoping to attend as part of a larger group next year.
---
The Year 8 Rugby team attended the Hampshire RFU tournament held at Southampton RFU. The festival was attended by 27 schools across Hampshire and the weather held out for some fantastic rugby to take place.
Mayfield was placed into a tough pool to begin the day with the highlight being Mayfield v Ringwood School. Mayfield went into an early lead with Darius Gates showing great speed to run the length of the pitch to score in the corner. Mayfield defended superbly with some big tackles coming from Tommy Jerome and Connor Jeffery, but unfortunately Ringwood put us under immense pressure and were rewarded when they crashed over the line in the final minutes to even the scores.
1st Pool Results:
Mayfield 0- 5 Cams Hill
Mayfield 0- 5 Island Free School
Mayfield 0- 15 Kings School
Mayfield 5- 5 Ringwood
After Lunch the pools were re-seeded based on the mornings results.
2nd Pool Results:
Mayfield 20- 0 Henry Court
Mayfield 25- 0 Applemore college
Mayfield 15- 15 New Forest School
The highlight was our last game against the New Forest school. Mayfield could not afford to lose as this would have cost us winning the Pool.
Mayfield conceded a try to start which was a wakeup call to the team. Mayfield then quickly settled with some outstanding play by Harvey Chapman stepping his way through the opposition only to get tackled short of the line. Shortly after Darious Gates again showed that he can't be caught on a rugby pitch by scoring twice in quick succession to put Mayfield 10- 5 up. It was then New Forest turn to put the pressure back on Mayfield and with some poor decision making and a
failed kick to touch Mayfield then found themselves down 10-15, quickly conceding two trys. Mayfield was then under pressure for a period and it took Jacob Leaver and George Kirby to put in some big tackles to knock them back. New Forest lost control of the ball and excellent tidying up by Jonty Pearson was able to pass the ball to Darius Gates who did what he had done all afternoon and ran the length of the pitch to complete his hattrick.
This meant Mayfield finished the day on top of the pool due to the New Forest losing to Henry Court.
The focus for the festival is that the players participating were having fun, learning and developing their understanding of rugby and to leave feeling positive about the game which I believe was certainly the case.
The Core Values of rugby were at the centre of the festival (Teamwork, Respect, Enjoyment, Discipline and Sportsmanship) which were reinforced throughout the day and on the spot prizes were awarded for examples of these cores throughout the day, which several Mayfield students were identified for demonstrating these.
Overall an excellent performance from Mayfield and the students did the school proud and put us on the rugby map within the county.
---
Tasnim Ahmed in Year 10 is creating a fantastic final piece in response to her 'My World' Project. Exploring a range of tone and detail.
Tasnim has created an in depth response to her research on travel and environments. Taking extra time in every area, her sketchbook is a brilliant example for GCSE Art.