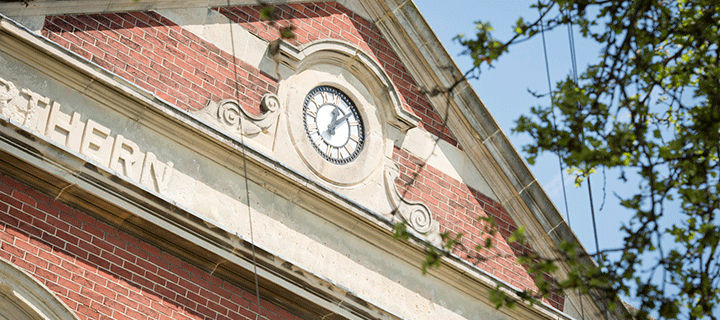 Mr David Jeapes - Headteacher
The 'Friends of Mayfield' (FOM) are a group of like-minded volunteers that come together to help the school raise much needed funds for the extras that our budget cannot cover. The FOM are now planning for the Summer Fayre. If you can support in anyway at all; however big or small, please email the Chair of FOM, Mrs. Lucie Gray on Gray@mayfield.portsmouth.sch.uk.
To help our families plan their time, we have produced an extract of the school calendar containing all of the keys dates for Spring 2. This can be downloaded here.
Miss Louise Hillier - Head of Senior
Over the last week the enthusiastic Mathematics department enjoyed celebrating "pi-day" with the pupils! Many circle lessons took place and Year 7 enjoyed a longer session in the Main Hall where STEM was celebrated with a combined DNA and Circles extravaganza. A group of pupils also went down to Lyndhurst to do some Mathematics with the younger pupils. Thank you to all the staff who organised events for the pupils as I know they always enjoy these occasions.
A last reminder about Options as the Year 9 Options Forms should now be in and the Year 8 Options Forms must be submitted by Thursday 23rd March to tutors.
Looking ahead, the application process for Prefects will begin for Year 10 on 30th March with an assembly to explain what needs to be done. Please discuss with your child, if they are in Year 10, whether or not applying for a prefect role is something they wish to do.
Thinking about uniform could I please remind parents that trousers worn to school should be "school trousers" and not "fashion trousers".
And finally if your child is in Year 7 or 8 they should be working on their Spring 2 Prep projects. The links to the projects are here.
Mr Matt Stedman - Head of Primary
We entered a team of Year 2 children in the Portsmouth Schools Tri-Golf Tournament this week. Our team did Mayfield proud, showing a great sense of teamwork and competing with tremendous enthusiasm. Although we finished just outside the medals on this occasion, our team all received their certificates and a huge round of applause in Celebration Assembly this afternoon.
The Year 1 and 2 children have been busy this week preparing for their performances at the end of this term. We are really excited about the Year 2 Choir appearing at the Kings Theatre on 29th March and I'm delighted that so many parents are able to join us for the evening. A letter with more detail about the arrangements for this event has been sent home in the book bags today.
The Year 1 performance of 'Hot Safari' is also taking shape as the children are learning their lines and songs. The performance is scheduled for Thursday 6th April and tickets will be on sale shortly.
We are also gearing up to celebrate Comic Relief next Friday. The School Council have had lots of ideas about how we can raise money for this very worthwhile charity, so we are holding a non-uniform day with children wearing red and donating £1 to Comic Relief. We are also selling Red Noses for £1 each on the infant gate every morning next week.
Year 2 children will be taking their SATs at the end of May and Year 1 children will take their Phonics Screening Test in mid-June. Reading at home is one of the best ways that you can support your child in preparing for these assessments. We strongly recommend that all children (including Year R) should read or share a book with an adult at home at least five times per week. It also helps the teachers to plan for progress in school when the reading at home is recorded in your child's planner. Thank you for your continued support.
Mrs I Edwards - Pre-School & Nursery
PE lessons will begin next week, these will be held on Thursday and Friday.
Our topic will continue with Spring. The children will be recording any changes they have observed in their seedlings using digital cameras and mark making implements.
Learning intentions linked to subject:
Make accurate observational paintings;
Count sets of objects reliably;
Use digital cameras
Design their own flowers for class display.
Letter sound will be 'X'. Keep creating your collages as we use these in class to promote phonics.
Words of the week in class are 'the' and 'an'.
Finally, to remind dads school will be open on Monday 20th March from 6.30 -7.30 to make Mother's day cards.
Dates for Diary:
Monday 20 March
Dads you can come into school from 6.30pm till 7.30pm to create a Mother's Day card with your child. This is a lovely activity to do together, hope to see some of you here.
Friday 24th March – Red Nose Day
Children to come in fancy dress a small donation please to go towards this charity event.
To contribute to Comic Relief we are going to be having a non-uniform day.
As always if you want to wear non-uniform you must donate £1 on the gate.
Anyone not in school uniform who does not donate will be asked to change into school uniform.
Please remember that you must not wear:
•Low cut tops
•Tops that show your midriff
•Shorts or skirts that are inappropriately short
Final decisions on the suitability of non-uniform will rest with the Behaviour Team – if you are inappropriately dressed you will be asked to change into school uniform.
On Thursday 9th March we took a group of Year 7 and 8 pupils to the Portsmouth Sports Hall Athletics Competition.
We entered both a boys and girls team into the competition, which involved a variety of indoor athletic events.
All pupils worked extremely hard and gave their all in every event that they participated in.
We were very proud of all of the pupils and their effort.
The girls team were placed 3rd and received the bronze medal.
Well done to all who took part.
---
On Monday 13th March I took the Year 8 Netball team to the city wide netball tournament.
All of the players worked tirelessly throughout and we had some great results because of this.
We had victories against both Milton Cross and Springfield.
The team train every week and I am always impressed by their hard work and dedication.
Well done girls and good luck next week.
---
On Wednesday evening, Mayfield's Year 7 Football team maintained its perfect start to the season with an 8-0 win over rivals Trafalgar.
Goals from Issac Bello, Joe Moore, Ben Waller and Callum Kimber ensured an emphatic victory.
Well done to all the players on an excellent performance.
---
Abid Choudhury and Mary Tumbrok (Year 9) have produced some fantastic street art typography for their Year 9 project. Students are exploring shape, colour, tone and the D effect with every letter in the style of a street artist.