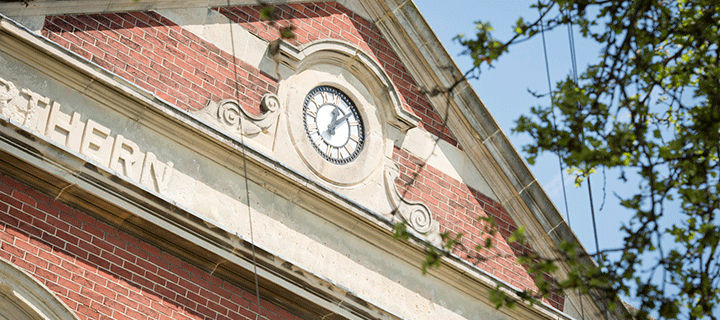 Mr David Jeapes - Headteacher
Over half term we will be sending out a whole school posting which will contain a letter from me and your child's report. If you do not get this communication by Friday 24th February, please contact Mrs. Helen Patis, SIMS Manager on Patis@mayfield.portsmouth.sch.uk who will resend and check your contact information. The Mayfield Messenger will take a break over half term and the next issue will be sent out on Friday 3rd March.
To help our families plan their time, we have produced an extract of the school calendar containing all of the keys dates for Spring 2.
Finally, please be aware that the Governing Body of Mayfield School are proposing to change the number of pupils on roll by altering the published admission number for KS2 and KS4. A copy of the proposal letter can be found here.
---
Miss Louise Hillier - Head of Senior
We have ended this half-term with a well-attended Year 9 Parents Evening. The forms that are required for Option choices were given out at this event. If you were not able to attend this evening to collect the form it will be sent home in the post. The deadline for returning these is 6th March 2017 to your child's tutor by 11:35am. Please note that the forms must be signed by parents, children and your child's tutor.
First week back after the holiday is the Year 11 Parents Evening. Booking is via the website here. We look forward to working with you to support your child. If your child has not yet got a revision timetable that they are using to focus their independent study, then half-term would be a good time to get started on working out how to portion out their time to maximise success.
The Prep projects for Years 7 and 8 are being sent home over the half-term holiday. All the information is available on the website here. Half-term would be a good time to make a start on the projects being set. Please remember that each project contains some extended writing that must be hand-written.
I wish you a very restful half-term and urge you to encourage your child, whichever year group they are in, to read over the holiday.
---
Mr Matt Stedman - Head of Primary
We have had some fantastic Prep projects handed in this week. Children in Year 1 clearly enjoyed making their treasure maps and the Year 2 Tudor research projects and Tudor houses showed that the children are moving on quickly in their learning. The Prep projects in the infant section aim to get children working creatively with their families at home. All of the children who came to see me with the Prep said how much they had enjoyed working with their mums, dads, sisters or brothers on their projects. I hope that you enjoyed working on these projects too!
Our Year 2 Choir have been out of school this afternoon at the Infant Voices Festival at Stamshaw Infant School. This is part of a citywide Music project that culminates in a performance at the Kings Theatre in Southsea on Wednesday 29th March to which parents and families are invited. I'm sure that the children will have done us proud this afternoon.
We have a very busy week when we return after half-term. The Parents Evenings take place on Wednesday 1st and Thursday 2nd March from 4pm till 7pm. Please book your appointment via the online booking system if you haven't done so already.
Thursday 2nd March is World Book Day and there is a whole host of activities taking place to boost the children's love of reading. The children are able to come dressed as a character from their favourite book on Thursday 2nd March and the staff will be joining in too. We are relying on voluntary parental contributions of £3.50 per child to be able to run all of the events for World Book Day. I would be grateful if you could send your voluntary contribution in to your child's teacher as soon as possible.
The new round of Extra-Curricular Clubs also start after half-term. The booking system for the Spring 2 clubs is now closed. The Ignite Clubs that have run in Autumn 2 and Spring 1 are taking a rest for this half-term. Please speak to or contact Mrs Guy on GuyM@mayfield.portsmouth.sch.uk if you have any queries or questions about extra-curricular provision.
We have the Friends of Mayfield Bingo Night on Friday 3rd March. I'm looking forward to calling the numbers and hope to see many of you there on the evening – it promises to be quite an occasion!
Finally, we have the second Family Learning Week coming up in the week beginning 6th March. The programme for this week is shown below:
| | | | | | |
| --- | --- | --- | --- | --- | --- |
| Time | Monday 6th March | Tuesday 7th March | Wednesday 8th March | Thursday 9th March | Friday 10th March |
| 9.00am – 10.00am | Year 1 Maths | | | | Year 2 English |
| 11.10 – 12.10pm | Year 2 Maths | Year R English | | Year R Maths | Year 1 English |
| 1.30pm – 2.30pm | Year R Discovery | Year 2 Topic | Year 1 Topic | | |
Further details on how you can book your spaces for these sessions will be sent home after the half-term holidays.
Mrs I Edwards - Pre-School & Nursery
After half term, the topic the children will be learning about is 'Spring'. The children will be looking at planting and growth. We will explore seeds using hand lenses and we will encourage the children to talk about their observations and make observational drawings. Could I please ask if any parents could donate any seeds or compost to support with this class topic?
Learning intentions:
Talk about differences;
Sort seeds by shape, size and colour;
Show an awareness of change;
Children to use key vocabulary to describe change.
Letter sound for the week is 'U'. Please keep creating collages for class.
Five Year 9 students: Annabel Derry, Mary Tumbrok, George Mountifield, Jade Brindley and Katy Boddy had the fantastic opportunity to visit HMS Iron Duke at the Historical Dockyard and listen to a variety of WW1 poetry. This amazing event was hosted by the Never Such Innocence Foundation in collaboration with the Royal Navy.
The students had the opportunity to ask a variety of questions about the ship's history and have a full tour of HMS Iron Duke. Afterwards the students were able to share their experience with students from other local schools and all received a beautiful book explaining differing aspects of WW1. This will be extremely helpful, as WW1 poetry is an up and coming topic in English. All of the students were a credit to the school and despite the slightly windy conditions had a fabulous time.
For further information on the Never Such Innocence Foundation please visit neversuchinnocence.com.
---
Friends of Mayfield movie night
We had an excellent turn out for the Friends of Mayfield movie night on Tuesday. 138 children from Year R to 2 came to watch 'The Secret Life of Pets', which they all enjoyed.
We raised £180 in donations, thank you to all parents for their support, especially those that came to help on the evening.
If you are able to support us in future events please email Mrs Firth on FirthJ@mayfield.portsmouth.sch.uk.
---
Chloe has created a fantastic detailed 'Zentangle' study using fine liner pens. The intricate detail and patterns have produced this stunning outcome! Well done.
---
We've got a fantastic free event for secondary pupils during February half term 2017.
We'd be grateful if you can share this with colleagues, pupils, parents and post this information on your school website or newsletter.
---